Automatic disposable lunch box making machine factory
Product introduction: ZGJ-200 paper cover machine is widely used in ice cream cups, soup cups, coffee cups, etc. This machine is the latest developed by our factory. It does not require pipe cutting, pipe forming and hot melt adhesive. Fully automatic paper feeding.
Description
1. The oblique double cylinder lunch box machine has a one button start stop function, which is simple to operate and provides work efficiency. Customers can combine multiple machines into a production line according to actual needs.
2. This disposable paper lunch box machine is controlled by PLC, and the human-machine interface is a touch screen.
3. The machine is equipped with intelligent temperature control, which can automatically adjust the temperature according to the settings, making the performance more reliable.
4. The machine has a safety door design that can be opened and closed. When the safety door is opened, the machine will stop automatically. In any case, it can realize emergency stop, which improves the safety of the equipment.
5. When the machine breaks down, the display screen will display the fault content for easy maintenance.
6. Inclined double cylinder lunch box machine can realize one mold and two cavities, and the lunch box and the lid can be formed in one, and the automatic production can be realized.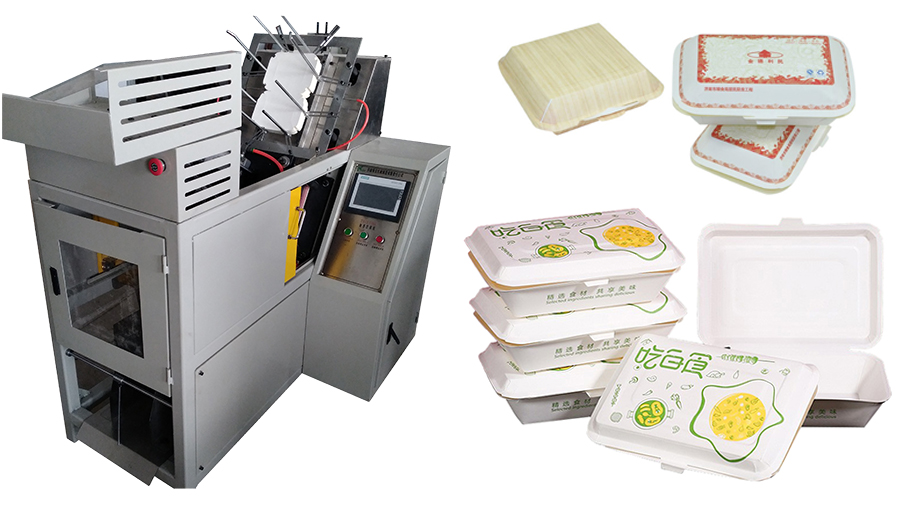 Specification
Power supply
AC220V/50HZ
Machine air supply
0.6-0.8MPa
Equipment power
0.8kW*4(number of heating rods) = 3.2 kw
Meal box size
Cover height ≤30mm, box height ≤50mm, width ≤320mm
Paper Type
Kraft coated paper,
white card coated paper bamboo pulp coated paper,
cup coated paper single-side coated paper
Production efficiency
20-28pcs/min
Machine functions
PLC Control, touch screen operation display, one-key start,
simple operation, automatic temperature control, automatic counting, automatic box collection fault shutdown, fault display
Machine dimensions
1400*900*1800mm
Machine weight
250kg
Safety protection
Safety cover, safety door switch, heat insulation protection, safety mark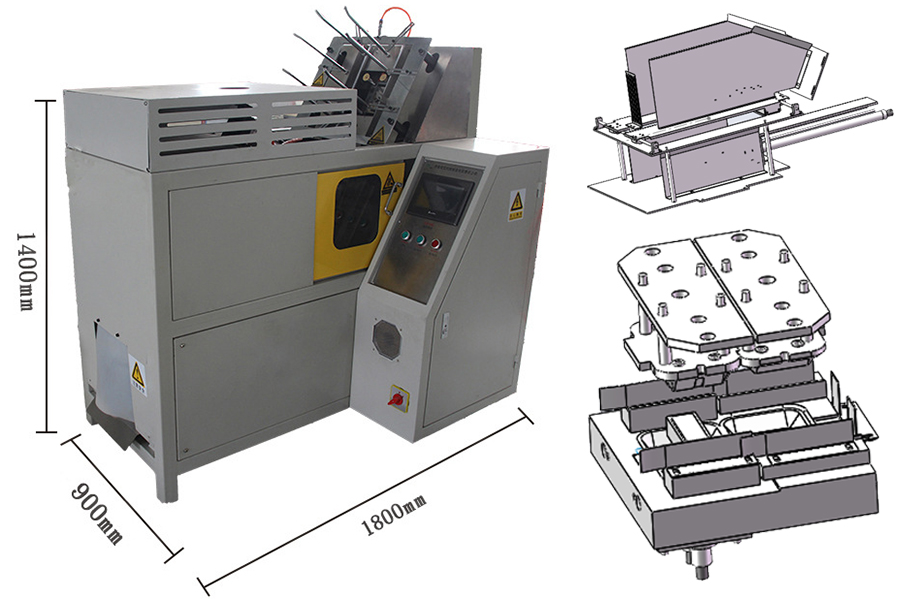 Feature
1. The lunch box machine rack is made of high-strength steel by precision welding. It is highly rustproof after pickling, rust prevention and electrostatic spraying. Clean the surface with clean water.
2. The mold of the lunch box machine can be replaced, and it is easy to manufacture products of different specifications, saving costs.
3. Japan RKC temperature controller, automatic temperature control, automatic detection, small temperature difference, up to two degrees Celsius.
4. Lunch box machine is equipped with high precision cylinder, high pressure, maintenance free.
5. The machine is equipped with high-precision oil-water separator, which can automatically filter the water in the air source, automatically drain water, and automatically fill oil to lubricate the cylinder.